Having thick and healthy hair is a dream for every man and woman. Some people may not feel hair fall, but if you are losing hair very quickly or at an early age, you have to be concerned about it. There are multiple ways to restore different levels of hair fall. One of the most effective and long-lasting ways is Hair Transplant in Islamabad. It will restore your hair for a lifetime and give you the desired outcomes. As it is an advanced hair restoration procedure, we must choose the best surgeon to get this treatment.
On this page, you will learn about how hair transplantation works, its results, benefits, cost of hair restoration and most importantly, the best hair transplant surgeon in Islamabad. So, take a moment and give it a read.
Hair Transplant In Islamabad: A Brief Introduction
The pain of receding hairlines, frequent hair loss and baldness is inexplicable. This situation tarnishes the personality of an individual. Several procedures, from medications to surgical interventions, are there to address hair loss or baldness. Hair transplant is the most advanced and efficient hair loss treatment that offers a rejuvenated look and regrows lost hair. Hair follicles are taken from one area of the scalp and transferred to a bald or balding area of the scalp during the surgical process. 
The procedure aims to enhance the scalp's appearance and restore hair growth. Follicular Unit Transplantation (FUT) and Follicular Unit Extraction or FUE hair transplant in Islamabad are two common methods for performing hair transplantation. Both of these methods are useful and of great assistance in terms of dealing with the issue. A surgeon chooses the best suitable procedure among these based on the severity of the issue, graft quality, specific conditions of the donor area and the expertise of a surgeon.
How To Prepare For The Treatment?
Before undergoing the procedure, it is necessary to adhere to a few procedures when you plan for hair transplantation treatment. Your surgeon will examine the condition and recommend some pre-op instructions. Such as
Do not smoke tobacco or drink alcohol.

Avoid taking blood thinning medications like aspirin.

If you have any infection, treat that first.

You have to understand the procedure and recovery.
Benefits Of Hair Transplant in Islamabad:
Natural-looking results: Hair transplantation can result in a natural-looking head of hair, restoring confidence and a positive self-image for the patient.

Permanent solution: Unlike other

hair loss treatments

, this hair restoration procedure is a permanent solution as the transplanted hair follicles are not affected by the natural causes of hair loss because they are resistant to baldness.

Minimally invasive: This is a minimally invasive procedure, and modern techniques like Follicular Unit Extraction (FUE) cause minimal scarring and have a quick recovery time.

Cost-effective: In the long term,

hair transplant in Islamabad

is more feasible than other hair loss treatments that need to be repeated.

Improved self-esteem: A successful hair transplant can improve self-esteem and confidence, leading to improved quality of life for the patient.
Side Effects of Hair Transplant:
Swelling

Bruising

Soreness

Allergic Reactions

Itching

Numbness
Hair Transplant Downtime:
The downtime normally varies from person to person because there are a few factors that can increase or decrease the duration of the recovery period. These factors include an individual's healing ability, the applied procedure, the extent of the treatment, adherence to aftercare treatment and the volume of the treated area. Generally, a patient starts observing results in a matter of a few months.
How Permanent Is Hair Transplant?
This hair restoration procedure involves the transplantation of hair follicles and restores the natural hair growth process because transplanted hairs follow their growth cycle and also they are resistant to baldness. Based on that, we can state that this is a long-lasting and permanent treatment.
Hair Transplant Alternatives:
Although this is the most advanced hair restoration treatment that reinstates a fuller hair head and rejuvenates the charm and grace of an individual's personality. The benefits of this treatment cannot be replaced, but there are some procedures that you can also try before considering a surgical solution. 
Lifestyle Modifications

Wigs In Islamabad

Nutritional Supplements

Certain types of Laser Therapy

Scalp Micropigmentation
Best Surgeon For Hair Transplant In Islamabad:
As mentioned earlier, you must choose a highly-skilled, experienced, and trained professional to get your lost hair back or hair transplant. Islamabad is a big city, and here are a number of renowned experts who are providing exceptional hair restoration services. Dr. Naveed Azhar is one of the best hair transplant surgeons in Islamabad. Given the expertise and the popularity of several surgeons, it is not easy to name him as one of the best surgeons in Islamabad. Following are a few reasons that make him one of the best choices to get hair loss treated in Islamabad.
Patient-Oriented Approaches
Dr. Naveed Azhar is the best because of his patient-oriented techniques. He always prioritizes the well-being and satisfaction of his patients because he believes their satisfaction always comes first. In addition, he conducts an initial session just to ask and evaluate each patient's specific concerns and strives to align his procedures accordingly.
Communication Skills
The communication skills of a surgeon are crucial to eliminate the fear and concerns of patients. Furthermore, this skill helps a surgeon to develop chemistry with a patient and make him speak comfortably. Dr. Naveed Azhar is also an expert in this domain. He makes patients comfortable and also deals with psychological concerns that patients face.
The Success Ratio
There is no comparison when it comes to the best or unbeatable. The success rate of Dr. Naveed Azhar also indicates his individuality and expertise in hair restoration. His success ratio seems insurmountable because it is extremely exceptional. He takes a personal interest in each case, and this is the prime reason for this persistent success.
Advanced Treatment Approaches
He is open to learning new treatment procedures and always strives to advance his knowledge and skills. His learning attitude molds his personality and enables him to bring the latest and advanced procedures to the table. This is also a reason for his relentless success. 
How To Take Care Of Your Head?
To maintain good recovery and the best results following hair transplantation, it's essential to carefully follow these aftercare instructions. You will receive detailed instructions from your surgeon that are designed to cater to your specific needs. Here are some general aftercare instructions for hair transplantation:
Keep your head elevated for the first few days after the procedure to reduce swelling and discomfort.

Avoid washing your hair for the first few days after the procedure, as this can cause damage to the transplanted hair follicles. When you are cleared to wash your hair, be gentle and avoid scrubbing the transplanted area.

For the first few weeks after the treatment, avoid exposing the transplanted area to direct sunlight, as sun exposure can lead to irritation and damage to the hair follicles.

Stay away from demanding activities like exercise and hard lifting because they can increase blood flow and swelling.

If you have been prescribed pain medications or antibiotics, take them as directed to help manage discomfort and prevent infection.

It's essential to follow all post-operative instructions provided by your surgeon to ensure proper healing and the best possible outcome.

Attend all follow-up appointments with your surgeon to monitor your progress and address any concerns.
Results: Before And After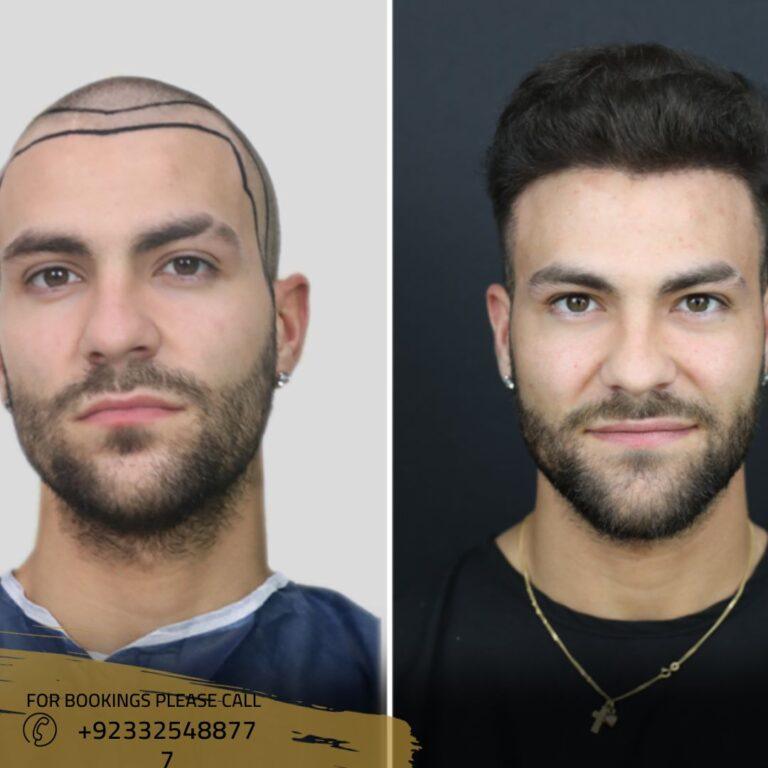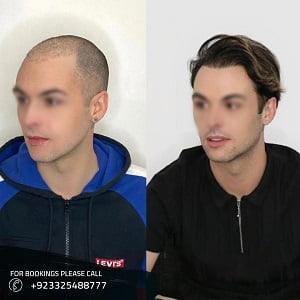 We believe the best thing to convince people is to show them results. Here are a few glimpses of our success story. These before and after clearly portray the changes that our professionals have successfully crafted. You can easily find the difference between before and after results. We only deliver quality results and this is what we are proud of. You can see the results and satisfaction ratio of our professionals.
How Much Is The Cost Of Hair Transplant In Islamabad?
The average cost of hair transplant in Islamabad remains somewhere between PKR 85,000 to PKR 480,000. But the cost of this treatment varies from person to person because it is calculated after examining the patient's condition. Also, it will not charge equally as everyone has different concerns. Some factors can impact the cost of the treatment, such as:
Plastic surgeon's fee.

Clinic's location and reputation.

Type of hair transplant method.

The number of grafts.

Other additional charges.
Best Hair Transplant Clinic In Islamabad:
If you are worried about this consistent and dreadful hair loss or receding hairlines, you do not need to worry because Enfield Royal Clinic Islamabad has brought the best available option to treat hair loss. This is deemed one of the best hair loss treatment clinics in Islamabad because of its matchless services, advanced instruments, professional ambiance and a team of eminent surgeons. 
Book your appointment at the best hair transplant clinic in Islamabad– Enfield Royal Clinic Islamabad, get a consultation session with Dr. Naveed Azhar and let him explore the best suitable hair loss treatment.